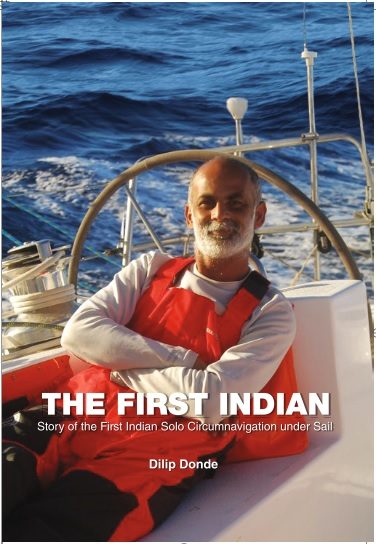 First published by the Maritime History Society, Mumbai, the book is available for sale on www.amazon.in.
An International edition was published by Fernhurst Books, UK. The same is available at Fernhurstbooks.com, www.amazon.co.uk, and www.amazon.com
The book has also been converted to an audio book for the visually impaired by the National Association of Blind (NAB), Mumbai.
This is a firsthand account of the first Solo Circumnavigation under sail by an Indian in an Indian built boat, something that had never been attempted in this country of over a billion people. The book chronicles, in his own words, his progress over a period of four years, when he built a suitable boat with a boat builder who had no past experience in sailboat construction, weaved his way through the 'sea blind' and often quixotic Indian bureaucracy, trained himself with no past precedent or knowledge base on the subject in the country and finally sailed solo around the world with four stops en route.
The book thus is the story of an individual undertaking a path breaking venture in more ways than one while working in a system that had very little idea as to what he was doing and at times was convinced that he will fail.